Have you ever been thinking of wearing a kilt? But have given up, because you were not Scottish? Or you thought it to be too complicated or could think of no place to wear it? Or that it might just be too expensive? You might have to think again. As a matter of fact, these years an increasing number of men all over the world, no matter their nationality, colour, heritage, belief, sexual preferences or whatever will buy and wear a kilt; and not just at events that too seldom occur, but as smart casual daily wear. And so might YOU. No need to be Scottish, just man enough.
Casual-first
Traditional kilt wearing is often regarded complicated with lots of rigid rules. For formal wear situations this might be very true. And most sites about kilts and kilt wearing and often also kilt forums do have their starting point in formal wear.
This site, however, is not about wearing a kilt once or twice every second year for that wedding or that aniversary you are not invited to anyway. It is about replacing jeans, pants, and shorts by a kilt and to wear it where and whenever you feel like it and appropriate. It is casual-first.
This implies kilts to this kind of usage. The same with accessories. You need very few. Even if so many different are to buy.
A few easy steps to go through and you can be out and about in a kilt, without being ripped off. And really be out and about, not just thinking about wearing it. This site is about kilt wearing made simple and straight forward. Casual-first. The non-Scottish approach to kilt wearing, you may say.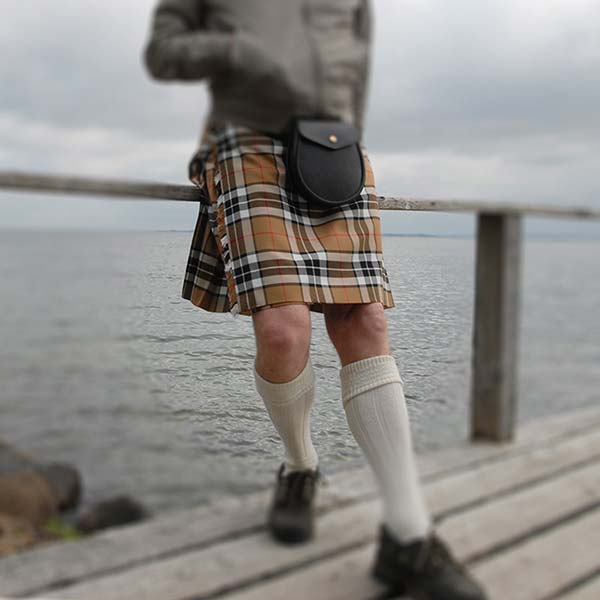 3 yard edonomy kilt. Thompson Camel tartan.
The more we are, the better
Main focus is of course the 
traditional tartan kilt
. But for some tasks a so-called 
utility kilt
 might be a better choice. And why should a kilt be the only skirted garment a man can wear? In fact 
skirts
 designed for men are to buy. And even a skirt made for women 
might
 be acceptable.
So, despite this is a kilt site, other skirted garments are also dealt with. The more we are who will wear a kilt – or, in a strictly manly way, other kinds of skirted garments - and the more often we'll do it, the better and sooner it shall be accepted to the full that pants are not the only possible legwear for a man.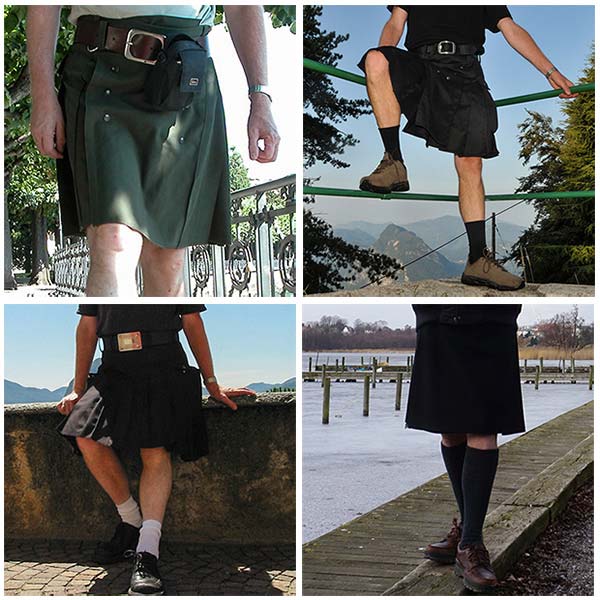 Not just the traditional kilt.
The Braveheart way
The Dress2kilt site so to speak follows the thoughts of a Californian lawyer, known as WDP/Braveheart, who at the beginning of this century introduced the 
MUG
 concept - 
Manly Unbifurcated Garments
, meaning
kilts, kilt variations (utility kilts), man skirts, and other male unbifurcated garments (sarongs and "manly" skirts).
Men wearing them he called 
Bravehearts
, in opposition to 
Freestylers
, these being men having no interest in appearing manly, or being men at all, and who will accordingly often or always wear and prefer every female garment over men's clothes and shoes.
Statement
That there are men who prefer looking like women or feel and wish to be women, we all know and should deeply respect. Only, here on this site it is about men
in general
, who might just want to wear a kilt (or another skirted garment). 'Men in general' is the most neutral description I have been able to come up with, in the hope of not insulting any persons or gruups of persons, because this really has not been my intention. 'Normal' men could have been misunderstood, 'ordinary' men might be connected with really average men in a negative sense, and 'real' men I don't like. Too much macho. But these days you must be careful with your language.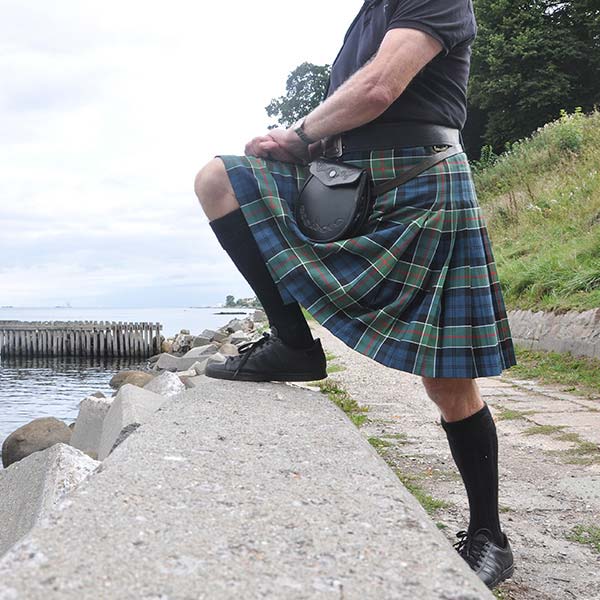 5 yard made-to-measure kilt, Colquhoun tartan.
YOU are?
The person I have had in my mind when making this home page is, like me, a European without Scottish roots. But in fact you can live everywhere, have any nationality and colour or whatever. Either you have no kilt yet, or you have a kilt which you have not yet dared wear outside, or you think you need a special event to wear it, but should like to wear it more often.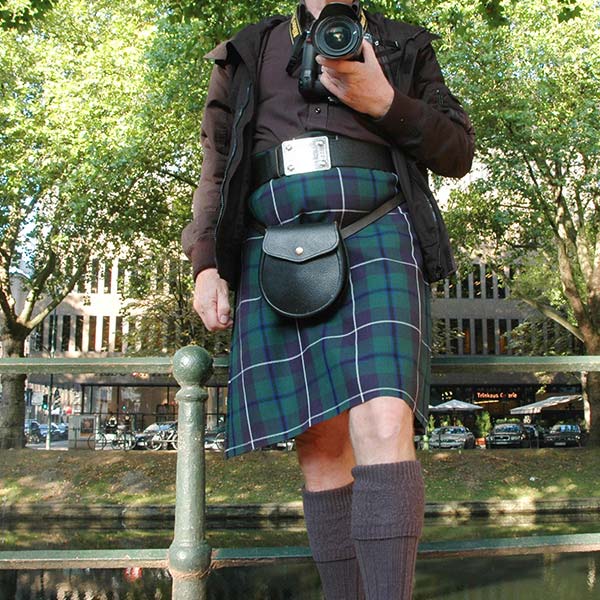 Douglas Green Modern tartan, Düsseldorf.
Statement
D2K is a no-nonsense, non-commercial, non-profit website, with nothing to sell or buy. It does not use cookies. It does not request any registration, nor does it collect any data from you, whether tentative or not. Not even a contact formula is here. If you should wish to tell or ask me something, write me an e-mail the good old way. The address is to see at the bottom of each page.

All you can find here is advice, on kilts and kilt wearing; or on some appropriate skirts. And that is for free. Enjoy!
Goal
Convince men that wearing a kilt - or another skirted garment a strictly manly way – is a non-event, something they can do whenever they feel like it and appropriate.
And that it neither has to be a science to wear a kilt nor expensive.
In English and German languages
The Dress2Kilt site is in English and German - even if neither language is mother tongue of the webmaster; but hopefully, this is not too disturbing or distracting from the main objective, to inspire more men to wear kilts (and other skirted garments a manly way) more often.